Beautiful People and Beautiful Events
Movie Star Animal Advocate from Bollywood
By Formosa News Group (Originally in Chinese)
Veteran Bollywood actress Amala Akkineni walked away from the spotlight of stardom to establish the Blue Cross of Hyderabad to rescue, protect, and provide helpless animals with a sweet, warm home.
Amala has loved animals since her childhood. When she was once asked whether she would become a vegetarian, she had an epiphany, wondering how, as an animal lover, she could have the heart to eat her own animal friends. She became a vegetarian and an active advocate of her newly adopted diet. Her success as a movie star did not detract from her love and care for stray animals. Whenever she found a wounded animal on the street, she would adopt it out of compassion.
At the suggestion of and with support from her husband, Akkineni Nagarjuna, who was also a movie star, Amala founded the Blue Cross of Hyderabad. The organization conducts animal welfare activities including: ambulance and rescue services, veterinary clinic, shelter, animal adoption, humane stray animal control, and related educational programs. When asked what gave her the strength to persist in this great task, Amala answered, "Yes, I discovered the Buddha's teaching, and it gave me a lot of peace and inner strength. I learned to meditate. I leaned yoga. But...I have learned...this is not my doing. It's all part of a universal unfolding. I am happy to be part of it."
The noble Amala is beautiful in appearance and at heart. We appreciate and admire her efforts in taking good care of our animal friends and hope that, with God's blessing, all sentient beings will live in peace and happiness.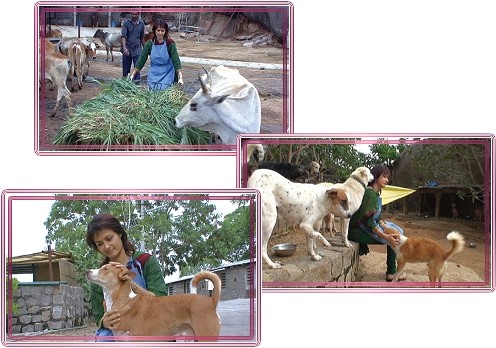 For more details on the Blue Cross of Hyderabad, please visit:
http://www.bluecrosshyd.in/index.php
To view Supreme Master Television's interview with actress Amala Akkineni, please visit:
http://video.Godsdirectcontact.net/magazine/AW786.php